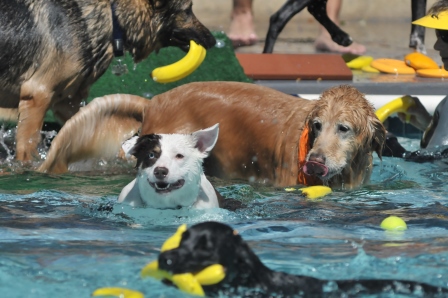 September 8 - 9 at the Templeton Community Pool
We had another wonderful SOLD OUT event for 2018. A great time was had by all. The dogs brought their A-game and thrilled us with their athleticism, daring, and comic antics.
Click here to see a photo gallery of our 2018 event, specifically Saturday afternoon about Noon to 2 pm, courtesy of photographer Jeff Bowen. Thank you Jeff !!
Dogs can celebrate the end of summer at the 12th Annual Dog Splash Days at the Templeton Community Pool, September 8-9. This popular annual event attracts locals and tourists looking for a unique experience with their family dogs.
The Templeton Community Pool is located at 34 6th Street adjacent to the downtown Templeton Park.
Click here for information regarding sponsor opportunities for this event.
This year's swim schedule is Saturday and Sunday from 10 am to 4 pm. The Saturday 10 am and Sunday 3 pm swim sessions are reserved for small dogs (under 30 pounds) and senior or disabled dogs. Small and senior dogs are also welcome at all other swim sessions.
See below for prepaid reservations and event rules.
Admission is $20 per dog per swim session and advance reservations are recommended but not required. Dogs with pre-paid reservations are admitted before walk-ins on a space available basis.
For more information, email hello@parks4pups.org or call (805) 239-4437.
This event is a major fundraiser for Vineyard Dog Park of Templeton, a non-profit organization and is being co-organized by our good friends at Las Tablas Animal Hospital.
Event Rules:
The tot pool and the shallow end of the adult pool are open for dog swimming.

Swim sessions are scheduled on the hour and limited to 20 dogs to ensure a quality and safe play time. Dog life vests and lots of floating toys are provided.

Dogs only are allowed in the pool for the event. Volunteers wearing wetsuits will act as "lifeguards" to assist dogs in the water.

Dogs must be 5 months or older and adult male dogs must be neutered.

Paper proof of current rabies vaccination must be presented at registration prior to admission.

Any dog displaying aggression will be required to leave the pool area immediately with a full refund.